Book Free 1st Class
Book your first class in our state
of the art facility.
"*" indicates required fields
Brazilian Jiu Jitsu (BJJ) for Law Enforcement
Brazilian Jiu Jitsu (BJJ) is a martial art that law enforcement personnel can use to their advantage. We are excited about our opportunity to offer training to law enforcement officers. Jiu Jitsu is all about taking control of resisting opponents in ways that will force them to submit. Control of a fight is generally easier on the ground than in a standing position to begin with, so much of the technique is centered around bringing the fight to the ground. This makes it easier to perform dominant control positions. The opponent can then be rendered harmless.
With Jiu Jitsu, you will be able to overcome opponents of greater size and strength, which is why it is so unique.  Using leverage control, grips, and positions, you will be able to make your opponent surrender, no matter their size. Students and law enforcement individuals gain a deeper understanding limits of the human body, providing knowledge that can be used to subdue and control an opponent.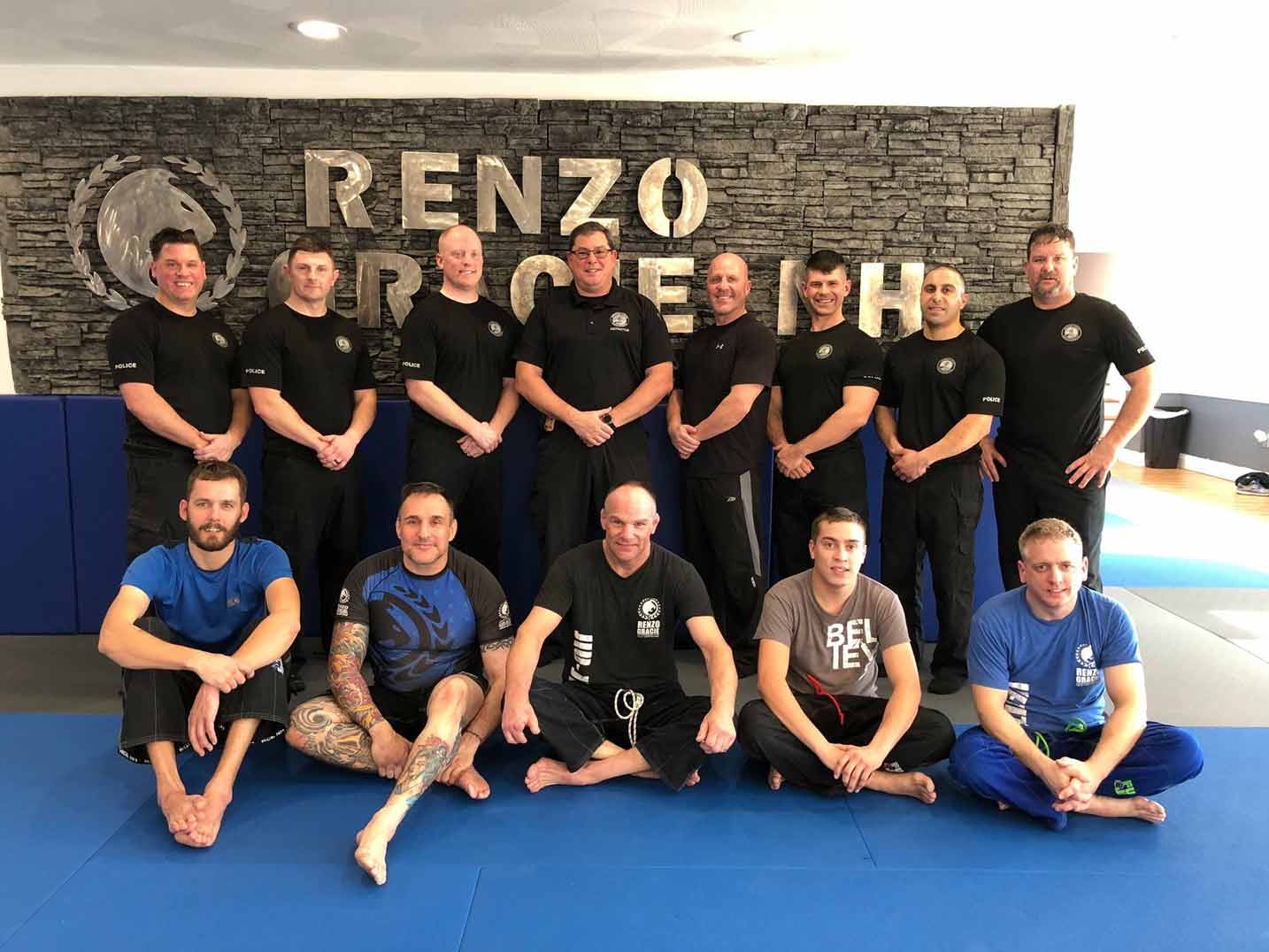 Benefits of Jiu Jitsu for Police NH
We thank police and law enforcement for what they do day in and day out. Our programs are tailored to benefit individuals with public service duties to our citizens. Jiu Jitsu is beneficial to any man or woman seeking to become more disciplined, heighten their fitness levels, and find an outlet for stress relief. This is a practical and real world martial art that will develop problem solving skills and build a healthy relationship with you and your body. There are physical benefits as well as mental and emotional ones when it comes to learning Brazilian Jiu Jitsu that law enforcement officers will quickly realize.
Classes at the academy are taught 7 days a week. Come down to the academy. Come take a look at a class or better yet, take one of the introduction classes. We are confident that Jiu Jitsu is practical for law enforcement officers. We cannot thank you enough for all that you do!
Testimonials
Gracie Jiu Jitsu for Law Enforcement Classes
"I have been training at the Renzo Gracie Academy for over 1 year. I have nothing but praise for Professor Kevin Landry, his staff, and my fellow students.

There are numerous days and times to train, which is very convenient for people who work odd shifts. There are also a wide variety of people, with varying levels of experience with whom to train. Perfect for anyone in law enforcement.

Professor Kevin has assembled and trained a great group of instructors. Kevin and his instructors genuinely care and will help you achieve your goals."
"I'm in my mid 30s and I've been in Law Enforcement for 10 years in MA. At first I was a little skeptical about joining Renzo's because I knew nothing about BJJ. However, I put my ego aside and joined. At Renzo's I've been taught the basics in BJJ and how to develop them. When working with more skilled guys it's a learning process for me and they never take their skill for granted. All instructors and higher belts are great to work with and are always opened to questions. My only regret is not joining sooner."
Having spent 18 years in federal law enforcement I realize how important control is for all law enforcement officers. Control is vital and in this field at times means the difference between a desirable result and a catastrophic result. I have trained under the tutelage of Professor Landry for 10 years and I have watched him teach his craft to everyone. Kevin is a dedicated professional who has a sincere desire to help law enforcement officers safely make it home each day. During my career I have found myself in several situations where basic jiu jitsu techniques, taught by Professor Landry, prevented me from having to use other means of force and helped me control an otherwise volatile situation. I highly recommend all law enforcement officers attend training classes with Professor Landry.
I've been in law enforcement for the past seven years. I am a 5'9" female at a whopping 150lbs and quickly realized I was outsized 80% of the time. I started looking at local places to attempt to train MMA and I walked into Renzo Gracie. I met with Professor Kevin and explained the goals and skills I was looking to gain and he introduced me to BJJ. At first I wasn't sure how I felt since I was adamant to train MMA. After my first class my mind instantly changed. I was shown the basics of BJJ and saw immediately how they can be applied to everyday interactions at work. The atmosphere at Renzo Gracie is not like any other, from the moment you walk in you are greeted by every member and treated with nothing but respect. Everyone's goal is to better themselves but also better their teammates. It is absolutely a TEAM atmosphere. I am truly thankful for Renzo Gracie and all of my teammates. I have been in a situation on the job where I very easily could have been injured badly, instead I applied the skills I learned at Renzo Gracie and went home safely that day. I go into work each day more confident than I am capable for myself, my co-workers, and anyone else. I even convinced my husband to begin training about a year ago and he too is eternally grateful.
After retiring from the military after twenty-six years, I moved to New Hampshire and assumed ownership of S.E.I. where I continue to work with elite military warriors such as SF, SEALs, Pararescuemen (PJ), and Combat Controllers amongst others. We provide high risk training in multiple disciplines to these DoD specialties.  In my previous life, I was a Chief Master Sergeant PJ charged with providing expertise to the DoD.

I am always on the lookout for those who are considered Subject Matter Experts in their respective professions.  It was fortuitous I met Kevin Landry…enrolling my kids in Renzo Gracie Jiu-Jitsu, NH.  His team has been nothing short of amazing, the culture within the academy reminds me of the brotherhood I left and their warrior ethos akin to the one I lived…for so long. Kevin/Team never miss an opportunity to share ethical fitness (values, morals, etc.) with the kids…an unexpected but welcomed reinforcement for a parent of four.

A relationship initially spawned with the kid's best interest has now expanded into Renzo Gracie Jiu-Jitsu supporting Team S.E.I.. Currently, our nations elite teams train to a remarkable combative level, and Kevin not only meets that expectation but takes even the most accomplished Tier I Operator to a higher level of knowledge.  I have had multiple teams/individuals rotate through Kevin's academy…echoing a sentiment I already knew.   

Kevin has spent as much time in Mixed Martial Arts (discipline jiu-jitsu) as I did in the military.  He is a 3rd deg black belt, currently competitive and ranked in the world. His ability to compete at a world-class level coupled with the warrior ethos (man in the arena) enables him to excel at teaching those who may engage in pitched combat.

Though Jiu-Jitsu was the impetus for enrolling our children, the culture within is why we stayed, and his continued professionalism is why I endorse his name.

Anthony Negron

Director S.E.I.

Pararescue Foundation Board of Director
Book Free 1st Class
Book your first class in our state
of the art facility.
"*" indicates required fields